OUTREACH & OUTREACH CONFERENCES

Target Group has become an industry leader at identifying MBE- and WBE-certified firms for public and private sector clients. Over the past 30 years, our organization has coordinated more than 1,000 community and contractor outreach events, which have resulted in contracting opportunities and awards for over 1,200 firms. Through the use of innovative contracting forms and extensive industry experience, Target Group has translated its mission into more than $2.0 billion worth of business for MBE- and WBE-certified firms.
REPORTING

Through an extensive data collection process, Target Group develops comprehensive reports addressing project status, contracting information, workforce utilization, and any additional efforts carried out
to achieve the project goals and requirements. Depending on the project, these goals are issued on a monthly, quarterly, or bi-annual basis and are tailored to the needs of the client and parameters of the project. These reports ultimately give the client an understanding of the project status as well as a tool to develop an action plan for improved contracting and workforce participation.
EMPLOYMENT OUTREACH & IN-TAKE SESSIONS

Our organization has become an industry leader at identifying employment opportunities for local residents. Utilizing an internal database of qualified candidates, our organization has prepared dozens of comprehensive employment programs that ensure that local residents receive job opportunities when developments are built in their neighborhood. Through the use of an innovative employment tracking program and extensive industry experience, Target Group has translated its mission into more than 5,000 jobs for community area residents.
ECONOMIC IMPACT STUDIES

Utilizing our extensive database of MWBE contractors, GIS mapping software, and census data, Target Group is
able to conduct a thorough analysis of the project impact areas to determine the local economic impact of a future development. These studies help in to give the client a better sense of the long-term impacts of their development, setting project goals, and targeting areas for local hiring programs.
PAYROLL SERVICES
A large portion of Target Group's data mining and analysis is based upon the collection and processing of certified payrolls submitted by all contractors working on a project. These services serve as quality control alerting the contractors to any issues in their payrolls, and serve as the basis for the workforce reporting Target Group provides. With this data, our organization is able to track workforce breakdowns based on hours and dollars for any project requirements or goals- ie workforce ethnicities, gender breakdowns, and local hiring/ city residency requirements.
ASSET MAPPING

Target Group uses GIS (geographic information systems) mapping software to visualize workforce and contracting data. Our staff has over a decade of experience at providing geographic asset mapping for our clients. Over the past several years, we have prepared maps based on demographic surveys of Aldermanic Wards, Community Areas, and municipalities. We have also prepared maps for Local Business Directories. Most recently, we have prepared asset mapping reports, in order to identify the workforce and contractors that are working on a particular project.
LOCAL HIRING PROGRAM

In order to achieve local hiring requirements and support additional economic impact in the local community, Target Group has developed several local hiring programs which focus on generating employment opportunities for members of the local construction community. Once the project impact area has been determined, Target Group will both consult their database of qualified candidates who live within the impact area, as well as organize a local hiring event to provide outreach to members of the community with construction experience. Together, these steps help to both devise a program and a system to connecting contractors with qualified candidates near the project sites.
CAPACITY STUDY

Prior to the RFP process, Target Group provides an in depth budget analysis capacity study to determine the levels of MWBE participation that can be expected in each trade area. Due to the uneven distribution of MWBE firms, certain packages will lend to higher participation than others- Target Group with not only flag these packages to capitalize on participation, but we will work with the client to make sure they can acquire participation in the more difficult trade areas.
CONTRACTOR COMMITMENT MEETINGS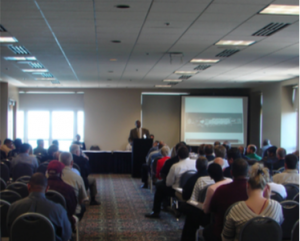 In order to adhere to project goals and requirements concerning MBE/WBE/Local Hiring, Target Group organizes Contractor Commitment meetings once or multiple times through out a project's duration to discuss hiring needs and work with contractors to increase their workforce diversity. These commitment meetings help to ensure the client that best efforts are being made towards achieving the goals and that each subcontractor is being held to achieving these requirements and goals.
COMPLIANCE & MONITORING

Our approach to compliance and monitoring is "granular" and based upon 30-years of experience establishing proven procedures to create a vigorous step by step analysis of the efforts of contractor's, sub-contractors and suppliers to comply with the owner's stated goals and requirements. Equal Employment Opportunities (EEO) reviews are focused on federal, state and local and prevailing wage/Davis Bacon requirements. An added dimension of our work is the Economic Impact Reports we generate as a result of our data mining expertise.
SITE VISITS & MONITORING

Target Group offers site visit services to capture daily workforce make-up by gender and ethnicity. These visits provide an point-in-time snapshot only counting bodies, not hours worked on-site, in order to supplement information collected in the certified payrolls and to conduct site interviews for projects with HUD funding. In addition to workforce verification, periodic visits to the project site provide a hands-on understanding of the conditions and progress of the development.
AUDITING

Target Group has provided auditing services to various clients in order to verify the achievement of project goals and requirements. This service entails a rigorous review of financial documents and statements, often times at the completion of construction and backtracking over several months to review the finances and contracting documents issued over the course of the development.
LOCAL BUSINESS DIRECTORY

Over the past 15 years, our organization has prepared numerous Local Business Directories for private and public sector clients to bring additional business opportunities to the local community. Private developers of retail, residential, and commercial buildings have hired Target Group to help them identify local businesses that can partner with them on projects built in neighborhoods throughout the city.
DIVERSITY PROGRAM

Our organization has assisted several clients in establishing their own diversity program in order to achieve contracting and workforce requirements, as well as acheive the highest level of participation. Programs goals are determined through thorough capacity studies of the trades needed on the project, types of contractors in the immediate project area (local impact area), and the volume of construction workforce near the jobsite. Through this analysis, the Target Group staff is able to sit down with client and outline project goals, as well as the steps for achieving these goals over the lifetime of the project.