May 2, 2016
Posted by:

admin1

Category: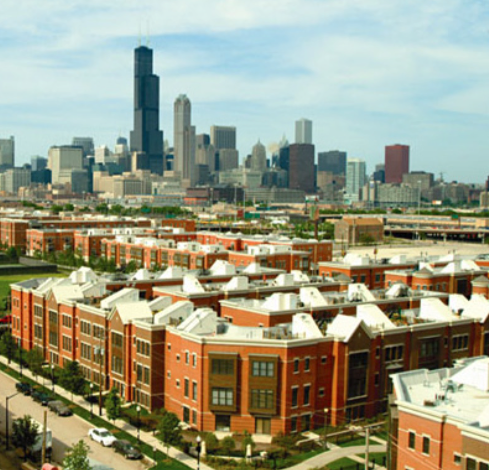 CLIENT | The University of Illinois at Chicago
LOCATION | 601 S. Morgan St. Chicago, IL 60607
GENERAL CONTRACTOR |
START DATE | 2000
DATE COMPLETED | 2008
PROJECT MANAGER | Jeanne Ang
PROJECT DESCRIPTION
The University of Illinois at Chicago envisioned a campus expansion that encompassed more than just academic facility growth.
The creation of an "around-the-clock" university village was conceived as a functioning Chicago neighborhood consisting of for-sale housing, student apartments, urban parks, retail, academic facilities and historic sites. The City of Chicago, UIC and neighborhood residents worked together to allow for the purchase and development of property along with the preservation and relocation of many historic buildings. The university's investment in Chicago's vitality is a brilliant investment in the college's own future and may become a model for cooperative public and private development at other urban institutions across the nation.
TARGET GROUP PRODUCTS AND SERVICES
Outreach & Outreach Conferences
Reporting
Local Hiring Program
Payroll Services
Economic Impact Study
Compliance and Monitoring
Capacity Study
Program Development & Implementation
Contractor Commitment Meetings
PROJECT GOALS & ACHIEVEMENTS
M/W/LBE 45%
34% MBE
9% WBE
20% Local Hiring
Workforce
54% Minority Achieved
1% Female Achieved
8% Local Residents Achieved